TUDO BRAZIL!
TUDO BRAZIL!
16 DAYS / 15 NIGHTS
2 Nights at Belmond Das Cataratas in Iguassu
3 Nights at Araras Eco Lodge in Pantanal
3 Nights at Nannai Resort & Spa in Porto de Galinhas
4 Nights on M/Y Tucano Yacht in Amazon
3 Nights at Miramar by Windsor in Rio
Tudo Brazil - Request a Quote
TRIP HIGHLIGHTS
If you're looking for a deluxe, adventurous experience that gives you a taste of everything Brazil, look no further! Craft Travel's 'Tudo Brazil' covers it all and then some: Waterfalls, Hiking, Wildlife, Boating, Relaxing, Sightseeing and Nightlife…there is truly something for everyone. Your in-depth adventure takes you through cities, jungles, and stunning beaches, all while staying in some of the region's top hotels!
WHAT'S INCLUDED
Daily Breakfast at all Hotels

Full board at Araras Eco Lodge in Pantanal and Tucono Motor Yacht in the Amazon

Excursions and tours in Iguassu and Rio de Janeiro as specified below

Daily included excursions at Araras Eco Lodge and Tucono Motor Yacht

Macuco Safari & Boat Tour

All airport and ground transportation (unless otherwise specified in the itinerary)

All entrance fees as mentioned on tour

All local taxes (unless otherwise specified)

*Not included: gratuities, visas (if applicable), international or internal flights, meals and drinks not described above, items of a personal nature
Tucano Motor Yacht on the Amazon River, Brazil
Jaguar in Pantanal, Brazilian Amazon
Sugar Loaf in Rio de Janeiro, Brazil
Pool at Nannai Resort & Spa
Accommodations at Nannai Resort & Spa
Accommodations at Araras Eco Lodge, Pantanal
Araras Eco Lodge, Pantanal
Araras Eco Lodge, Pantanal
Araras Eco Lodge, Pantanal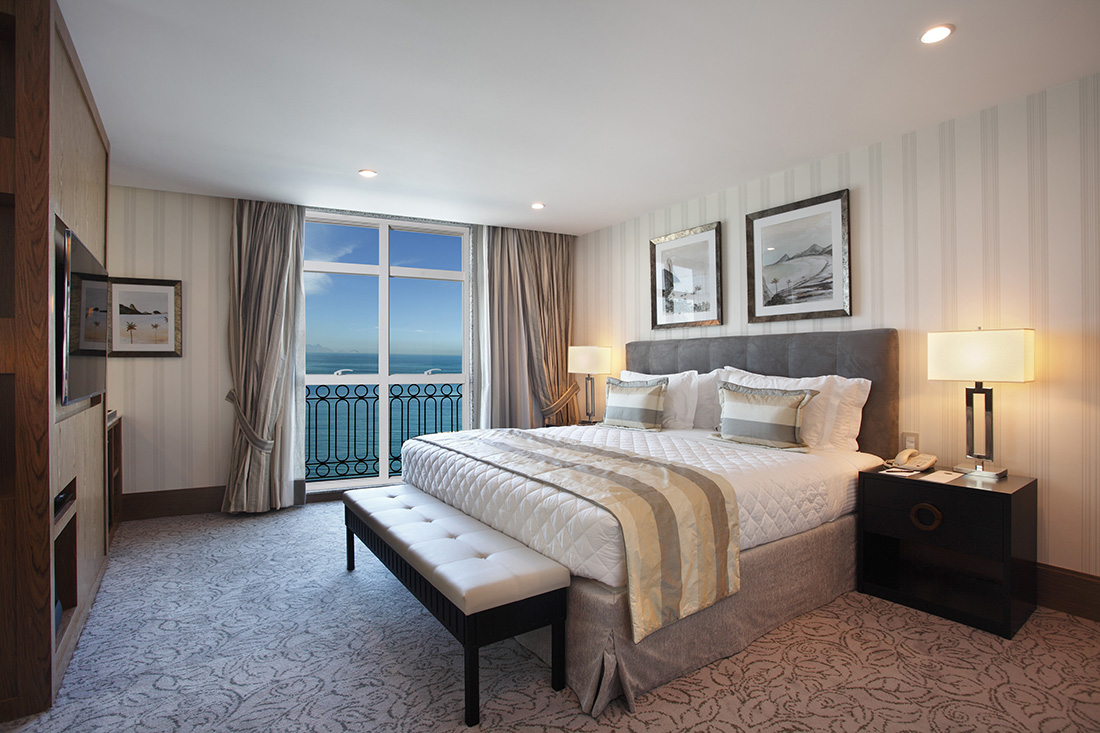 Executive Suite Accommodations at Miramar by Windsor, Rio de Janeiro
Rooftop Pool at Miramar by Windsor, Rio de Janeiro
DETAILED ITINERARY
DAY 01 | WELCOME TO IGUASSU FALLS!
Arrive to the airport at Iguassu Falls, where you will be met by your guide at exit from baggage claim and transferred to your hotel. This evening is yours to unwind and get ready for many exciting, action-packed days ahead!
Overnight at Belmond Das Cataratas
DAY 02 | IGUASSU FALLS
Breakfast at the hotel. Full Day Argentina & Brazil Falls w/Macuco Safari. Overnight at Hotel.

After breakfast, your driver will take you across the Tancredo Neves Bridge with its lovely view of the Iguassu Canyon heading towards the Iguaçu National Park in Argentina. Visit the upper walkways which allow a different perspective and more intimate contact with the falls and adjoining rainforest filled with orchids, bromeliads, birds and other wildlife. The highlight of the trip is no doubt a visit to the suspended platform at the very brink of the Devil's Throat – largest of the waterfalls. Return to your hotel to begin your afternoon boating adventure! Descend the trail of the canyon, taking in the sweeping panoramic views of more than 240 waterfalls. Along with its "sister" park in Argentina, The Iguassu National Park forms the most significant remaining rainforest in the southern cone of South America, which has been declared a National Heritage Site by UNESCO. Finish the tour with a visit to the artisans fair.
Now begins your big adventure! With expert guides, embark in open jeep-towed wagons for a 3 KM adventure through the jungle. Next, you have the option to hike 600 meters to the waterfall baptized Macuco Falls. The Macuco Falls, perfect for a refreshing dip on days of intense heat, spill down from a height of approximately 20 meters. Access is via a stairway carved into an ancient rock. The last stop is the Macuco Safari dock on the Brazilian side of the Iguassu River. Get ready to board your secure inflatable bi-motor boats after obtaining life-vests and plastic containers made to protect photographic and filming equipment. Travel up-river, passing the canyon, facing the rapids, at a speed permitting the appreciation of the scenery, until you reach the great horseshoe known as the Devil's Throat. A change of clothes is recommended, as is leaving any non-waterproof items behind. Lockers are available at the pier before boarding.
This evening is yours to rest and rejuvenate!
Overnight at Belmond Das Cataratas (B)
DAY 03 | IGUASSU FALLS - PANTANAL
After an early breakfast you will be transferred to your flight to Pantanal. Upon arrival in Cuiaba, you will be met by your guide & transferred to the lodge.
Late this afternoon, enjoy a hike through the surrounding area where you can ascend a 12 M observation tower that boasts a spectacular view of the sunset for which Brazil is so famous. After dinner, embark on a night walk to observe the starry sky, hear and feel the nocturnal environment and watch some animals.
Dinner is at your leisure. Head to bed early if you wish and rest up for an exciting day tomorrow!
Overnight in Araras Eco Lodge (B, D)
Araras Pantanal Eco Lodge: Located the center of the continent, with an area of approximately 150.000 km², Pantanal consists of a transition area, containing elements of Cerrado, the Amazon and Atlantic forests, of Paraguayan Chaco and Caatinga. Such fantastic biodiversity includes approximately: 698 species of birds, 80 species of mammals, 26 of fish and 50 of reptiles.
Among this unique and rare biological diversity is the Araras Pantanal Eco Lodge. Built in perfect harmony with its surroundings, it has its access assured throughout the year through the Transpantaneira Park Road, only 132 km (82 miles) south of Cuiabá (Capital of Mato Grosso) in approximately two hours.
From this self-sustainable lodge, you will have the opportunity to experience excellent birdwatching, walk trails in primary forests and on suspended walkways over wet areas, practice canoeing, explore fields and forests on horseback, take day and night photo safaris in appropriate vehicles, and much more, everything with the permanent assistance of naturalist guides, specialized and fluent in several languages.
DAY 04 | PANTANAL
After breakfast, your guide will lead you on a 2 to 3 hr Photo-Safari in specially adapted open vehicles, perfect for taking pictures of the ever-changing landscape and variety of wild animals. Following the photo safari, embark on a canoe tour to spot aquatic wildlife, birds, flora and possibly piranha fishing. Dry season presents the opportunity to enjoy lunch close to the river; during wet season lunch is at the lodge. This afternoon, hike to 25m /82 ft high Howler Monkey Tower for sunset. Have dinner at your leisure at the lodge.
Overnight in Araras Eco Lodge (B, L, D)
DAY 05 | PANTANAL
After a hearty breakfast, hike the Rondon trail to the 12m / 40 ft high Tuiuiu Tower. Return to lodge for lunch. This afternoon's activity will acquaint you with Pantanal in the most traditional way possible - Horseback Riding! Explore areas difficult to access by vehicle, where it is common to see wild fauna and local cattle. Return to the lodge for dinner. The evening is yours to sit by the fire for an interesting lecture or slide presentation.
Overnight in Araras Eco Lodge (B, L, D)
DAY 06 | PANTANAL - PORTO DE GALINHAS
Wake up early this morning to catch the sunrise on a short hike. Head back to the lodge for a leisurely breakfast before transferring to the airport for your flight to Porto de Galinhas. Upon arrival you will be met by your guide and transferred to the resort for two glorious days of R&R before your Amazon adventure begins!
Overnight at Nannai Resort & Spa (B, D)
Nannai Resort & Spa: Inserted in a setting of rare natural beauty, it is ideal for those who seek to experience unforgettable moments. In its surroundings, coconut palms, mangroves, and a reserve of Mata Atlântica allow close contact with nature. On the beach, protected by reefs, the natural pools of crystal clear and warm water invite you to a refreshing sea bath.
Tropical architecture features bungalows with private pools and apartments that excel in comfort and style. The rich gastronomy, the Spa by L'Occitane, the Nannai Boutique and an infrastructure of spirits are some of the highlights.
DAY 07 | PORTO DE GALINHAS
This morning, wake up at your leisure. Enjoy a long, luxurious breakfast as you decide how to fill, or not fill, your day. Perhaps schedule a rejuvenating facial or couples massage, or relax by the pool or on the beach. The resort offers plenty of options for a day on your own!
Overnight at Nannai Resort & Spa (B, L, D)
DAY 08 | PORTO DE GALINHAS
For your second day at leisure, perhaps you're in the mood for some watersports! Snorkeling, paddleboard and kayak are available. Ask the resort concierge for assistance in arranging your daily activities.
Overnight at Nannai Resort & Spa (B, L, D)
DAY 09 | PORTO DE GALINHAS - AMAZON
This morning, expect an early departure to the airport for your flight to Manaus. Upon arrival, you will be met by guide and transferred to the Cruise Pier to meet the Motor Yacht Tucano, which will embark this afternoon on the Rio Negro. By late afternoon enter one of the world's largest river island systems, the Anavilhanas Archipelago. The boat will weave along a winding channel with rainforest on both sides in a riot of brilliant vegetation. Weather permitting, there will be a launch excursion in the gnarled and dense flooded forest known as the Igapó. Along the river bank you may see some Squirrel Monkeys and hear the growls of Howler Monkeys echoing through the rainforest. The Amazon is home to one of the greatest collection of birds worldwide, and you are sure to see some of these brightly colored jewels perched in the treetops. Return to the M/Y Tucano for hors d'oeuvres on the observation deck and a toast to the rainforest sunset.
Following dinner, embark on a guided excursion in search of nocturnal creatures such as the Caiman, the Amazon's crocodiles and night birds, like the Potoo!
Overnight on the M/Y Tucano Yacht (B, L, D)
DAY 10 | AMAZON
Shortly after sunrise this morning, explore the Anavilhanas Archipelago, a reserve that includes the world's largest system of river islands and also areas of tall dense rainforest. Explore the unique Igapó, where dense forests grow right out of the dark water of the Rio Negro. Return to the vessel mid morning for a hearty Brazilian breakfast. Take time to relax before going for a walk in the Terra Firme rainforest (weather permitting). There is a good chance you will see the markings, if not the animals themselves, of some of the Amazon's great mammals like peccaries (wild pigs) or even a jaguar. Around mid-day return to the vessel for lunch and a siesta. In the afternoon glide along the edges of the dense forest and listen to the sunset chorus of birds, howler monkeys, and frogs. Weather permitting, tonight'excursion to spot caiman (the Amazon's crocodiles) and other nocturnal creatures.
Overnight on the M/Y Tucano Yacht (B, L, D
DAY 11 | AMAZON
Wake up to yet another remote rainforest area which will be explored both by water and on foot. Mid-day, venture downstream to a small village on the east bank of the Rio Negro. Late this afternoon, visit a local community to learn how traditions help families survive in the remote interior. Later this evening begin a nighttime voyage downstream to the Xiborena Peninsula that divides two of the world's most storied rivers: the Rio Negro and the Amazon River.
Overnight on the M/Y Tucano Yacht (B, L, D
DAY 12 | AMAZON
Early this morning, head to the Lago Janauari Ecological Park, a dense forest that is flooded with the coffee colored water of the Amazon River. Explore a labyrinth of small channels overhung with gargantuan trees and vines while scanning for monkeys, Three Toed Sloths, and the occasional Collared Anteater. Return mid-morning to the M/Y Tucano for a hearty breakfast and some time to relax. After lunch, navigate to the "Encontro das Aguas", which joins two of the world's greatest rivers, the Rio Negro and The Amazon. The dark and light waters run side by side for several miles without mixing. Often Pink River Dolphins and also Grey River Dolphins leap and cavort along this stark line of contrasting currents.
Next, head upstream to cruise on the Amazon River until the late afternoon, where you will enjoy another launch excursion in a fascinating environment known as the Varzea, where you might spot piranhas or brightly colored birds. At sunset, begin to ascend the Rio Negro, cruising along but not stopping at the Porto de Manaus, one of the world's great ports. More than a thousand miles from the sea, Manaus is the major port for much of the entire Amazon. Here you will see boats of every imaginable shape and purpose that serve this continent sized forest. Tonight, sample Brazil's national drink, the Caipirinha and have a farewell dinner.
Overnight on the M/Y Tucano Yacht (B, L, D)
DAY 13 | AMAZON - RIO DE JANEIRO
Early this morning, travelers will disembark the vessel at the riverside dock of the Hotel Tropical and transfer to the airport for a flight to Rio de Janeiro. Upon arrival in Rio, you will be met by your guide and transferred to your hotel.
Overnight at Miramar by Windsor (B)
DAY 14 | RIO DE JANEIRO
After breakfast, depart for a Half Day tour of Corcovado. Visit the Christ Statue, recently elected as one of the seven modern wonders of the world. The statue sits 2,300 ft. above sea level, atop Corcovado Hill. Following a scenic drive along the Rodrigo de Freitas Lagoon, embark on a small train which climbs the beautiful mountainside. Upon reaching the top, visitors will experience a panoramic view of Rio de Janeiro and discover why it is known as the "Marvelous City"!
Overnight at Miramar by Windsor (B)
DAY 15 | RIO DE JANEIRO
Today is completely up to you! Enjoy a leisurely breakfast at the hotel before independently exploring the city; optional tours are also available. This evening get ready to party like a local in the Lapa District! There is no other place in Rio that embodies the "alegria" or happiness of the Brazilian people more than the nightlife scene in the neighborhood of Lapa. Once the sun goes down, this normally quiet neighborhood turns into a bustling and vibrant area full of restaurants, nightclubs and bars. The streets fill with cariocas and gringos alike, who flock to this Rio nightlife Mecca with one thing in mind……fun!! From traditional northeastern forró, to Rio's own samba, to reggae from Bahia, visitors will enjoy the best that the Rio music scene has to offer. On the Rio Nightlife Tour, head right to the heart of the action where our local guides will accompany you to one of the best clubs in Lapa, Rio Scenarium, where the locals come to listen to traditional Brazilian jazz and samba.
Overnight at Miramar by Windsor (B)
DAY 16 | DEPARTURE
After breakfast, your driver will help you check out and transfer you to the airport, where you will arrive with enough time for your departure flight home.
(B)
REQUEST A QUOTE
Want more info on this trip? Fill out this form and we will get back to you with a customized quote or help you answer any questions you may have.