Luxury Zimbabwe & Zambia: Lake Kariba, Hwange National Park & Victoria Falls
sale
Luxury Zimbabwe & Zambia: Lake Kariba, Hwange National Park & Victoria Falls
8 DAYS / 7 NIGHTS

2 Nights at Bumi Hills Safari Lodge (Lake Kariba, Zimbabwe)
3 Nights at Somalisa Camp (Hwange National Park, Zimbabwe)
2 Nights at Thorntree River Lodge (Victoria Falls/Livingstone, Zambia)
FROM $6,750 $5,250 PER PERSON
Luxury Zimbabwe & Zambia - Request a Quote
HIGHLIGHTS
Experience the best of Zimbabwe and Zambia and indulge in your ultimate African fantasy on a luxury safari.
Discover some of the most pristine wildlife areas and witness the drama and magic of Earth's greatest wildlife show. These intimate camps set the scene for both exploration and relaxation and bring a touch of luxury to the natural world. From Bumi Hills Safari Lodge, gaze in wonder over the incredible panoramic vista of the game-rich shoreline below and the seemingly infinite Lake Kariba. Let the splendor of Somalisa and Hwange National Park captivate your heart and soul and spend your days spotting wildlife on the boundless, gilded savannahs. Bask on the banks of the mighty Zambezi River at Thorntree River Lodge, Zambia, and follow in the footsteps of David Livingstone to the spectacle of Victoria Falls. A luxury safari with African Bush Camps strikes the perfect balance between luxury and authenticity.
The safari offers you a chance to truly experience Africa with sumptuous accommodation, premium views, expert professional guidance and a wilderness adventure that exceeds your dreams.
WHAT'S INCLUDED
All internal flights and ground transfers between lodges (flights into Zimbabwe and out of Zambia are not included)

All accommodations as per program (based on double/twin sharing room)

Twice daily game drives with English speaking naturalist guide (where applicable)

Full board at each camp

Drinks as specified by each camp (water, soft drinks, local branded spirits and beers, house wines)

Laundry service

All entrance fees as mentioned on tour

*Not included: gratuities, visas (if applicable), international or internal flights, meals and drinks not described above, items of a personal nature
Arrival to Zimbabwe: Bumi Hills Safari Lodge, Lake Kariba
At Harare Airport, board your connecting flight (approximately 40 minutes) to Lake Kariba Airstrip. Upon arrival you'll be met by a lodge representative who will escort you on the 15-minute drive to Bumi Hills Safari Lodge where your new African adventure begins.
Enjoy lunch upon arrival before heading for your first afternoon safari.

Overnight at Bumi Hills Safari Lodge (L, D)
Bumi Hills Safari Lodge boasts one of Africa's finest wilderness locations with an elevated position on a range of remote hills overlooking the vastness of Lake Kariba. Bumi is situated near the Northeastern border of the Matusdona National Park and is easily accessible by light aircraft and boat, allowing you to be swiftly transported into paradise without the stress of a long journey. The safari lodge has a total of 10 rooms, all with views over Lake Kariba. All rooms are premium rooms with balconies and uninhibited views over Lake Kariba. There are garden rooms available too, reserved for guides and tour leaders, with slated terraces, set a little way back behind and on a level above the premium rooms. Taking centre stage is the beautiful infinity pool that seems to blend endlessly into the lake horizon. The pool is surrounded by intimate wine and dining terraces on different levels. The lodge interiors have been beautifully finished in a fusion of contemporary western and African styles. The Lodge is situated on an extensive wildlife conservation area. Bumi Hills is home to lion, leopard, big herds of elephant and buffalo, as well as a multitude of different plains game. Guests can indulge in superb fishing in the lake waters surrounding the safari lodge with bream and the fighting tiger fish in abundance. Birding and cultural experiences (with the rich local Tonga culture) also abound.
Lake Kariba
The planet's most voluminous man-made lake, Kariba is a popular tourist destination that was created in the 1950s when the mighty Zambezi was dammed. It stretches for more than 200 kilometers along the border between Zimbabwe and Zambia, forming a natural boundary between the two countries. The lake's waters are home to abundant crocodiles, hippos, fish and aquatic birds, while its shoreline and islands are rich with terrestrial game such as elephant and buffalo. It has become one of Zimbabwe's main tourist attractions offering houseboat holidays, fishing safaris and wonderful game viewing experiences.
Bumi Hills Safari Lodge, Lake Kariba
Spend your day at the lodge. Your stay includes all meals and activities as follows: Game drives, walking safaris, night drives, visits to local villages, fishing and lake safaris with sundowners. All activities included.
Overnight at Bumi Hills Safari Lodge (B, L, D)
Transfer from Bumi Hills to Somalisa Camp, Hwange National Park
Today, after your final morning activity and check out, transfer back to Lake Kariba Airstrip for your 35 minute flight to Hwange Airstrip. You'll then arrive at stunning Somalisa Camp, just in time for lunch.
This tented camp gives you an amazing opportunity to embark on a night game drive, often not permitted in National Parks.

Overnight at Somalisa Camp (B, L, D)
Somalisa Camp is set in the heart of Hwange National Park, and is known as the land of the giants for its big elephant herds. Nestled in a stunning location tucked away on an acacia island along the edge of an ancient seasonal flood plain, Somalisa provides guests with breath-taking views of the savannah plains across the famous Kennedy Vlei line. Recently re-built, Somalisa Camp has upgraded its level of accommodation to that of complete comfort and luxury whilst still maintaining its focus on the guiding and hosting of guests to ensure the ultimate guest experience. Consisting of seven elegantly furnished Sail Tents with gauze sliding doors, a glass wood-burner fireplace for the cold winter nights, and an overhead fan for the hot summer days, each tent has en suite bathroom facilities including flush toilets, an indoor and outdoor shower, as well as a copper slipper-style bathtub. The main decking area includes split level decking with a separate lounge and dining area, as well as a small splash pool for guests overlooking the "Elephant Pool" and a natural waterhole where herds of game congregate to drink and where guests can relax whilst soaking in the African bush.
Hwange National Park
Hwange National Park is Zimbabwe's biggest reserve, home to a profusion of wildlife, including giraffe, lion, zebra and approximately 40,000 elephants. It provides sanctuary for all the country's endangered species, including Cecil the Lion's two surviving sons and a population of wild dogs thought to be among the most sizeable surviving groups on the continent. Terrain ranges from desert dunes and savanna lands to rocky outcrops and sparse forests, and visitors have the choice of game drives, guided walks or horseback safaris as a means of experiencing the park and its creatures.
Somalisa Camp, Hwange National Park
Your stay at Somalisa Camp includes all meals, game drives, walking, bird watching and night drives. A highlight will surely be spotting the descendants of Cecil's Pride, comprised over more than a dozen breathtaking lions.
Overnight at Somalisa Camp (B, L, D)
Somalisa Camp, Hwange National Park
Enjoy another day of the ultimate safari experience within Hwange National Park. Don't forget to spend time with Somalisa's own herd of elephants (it won't be hard to do, as they're generally waiting for you by the pool during tea time!).
Overnight at Somalisa Camp (B, L, D)
Transfer from Somalisa to Thorntree River Lodge, Livingstone (Victoria Falls)
Today after your morning activity, it's time to say goodbye to Zimbabwe. You'll head back to the Hwange Airstrip take the short flight to Victoria Falls Airport. Upon arrival you'll head by car to your final destination to unwind by The Falls for the last few nights.
This afternoon embark on one of many game activities with local rangers.

Overnight at Thorntree River Lodge (B, L, D)

Thorntree River Lodge is set in Zambia's Mosi-Oa- Tunya National Park, just a short distance from the famous Victoria Falls, Thorntree River Lodge is being completely rebuilt with an environmentally-conscious design. Drawing inspiration from local customs and culture, it is a modern contemporary design with tented roof structures to maintain the feel of authentic Africa. The lodge will boast 8 twin rooms and 2 family units comprising of 4 beds each. Each unit will have its own indoor and outdoor bathrooms, as well as a luxurious private plunge pool. The main lodge consists of a lounge with an open dining area, where the fine dining experience of African cuisine will come to life. The dining room flows into a private, temperature controlled wine cellar stocked with the finest wines. A gym and spa overlook the mighty Zambezi River, and there is a small library with WIFI for our guests' convenience. The communal deck is set on the edge of the stunning riverside, and is home to a sunken boma area and an infinity pool. Wooden decking floats on the edge of the river, and moves with the water level to create the illusion of sailing a boat, and help to achieve a seamless feel between river and land.
Livingstone (Victoria Falls)
One of the original natural wonders of the world, the Victoria Falls is a World Heritage Site and an extremely popular tourism attraction. Known locally as 'The Smoke that Thunders' this spectacle is accessible from both Zambia and Zimbabwe and it is an ideal place to combine a game viewing and water sports. There is excellent fishing, a terrifying bungee jump and arguably the best commercial white water rafting in the world.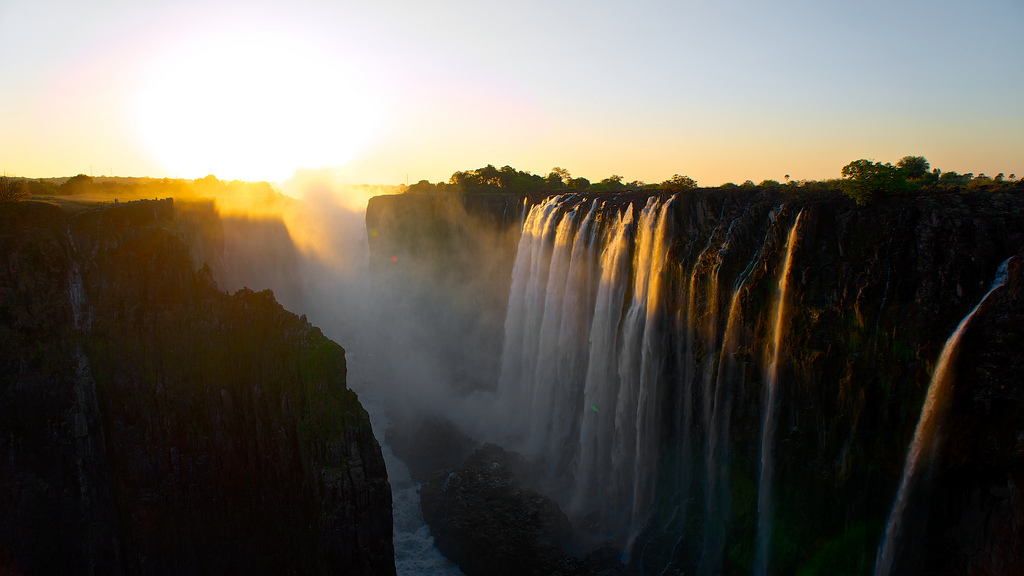 Thorntree River Lodge, Livingstone (Victoria Falls)
Enjoy your time at the lodge. Your stay includes game drives in Mosi-oa- Tunya National Park, rhino tracking, bush walks, sunrise and sunset boat cruises, Simoonga Village visits, a visit to Zambian side of the Falls, a visit to the Zimbabwean side of the Falls in the dry season, visit to the Livingstone Museum, canoe trips with picnic lunch, visit to Maramba and Makuni Markets, catch and release shore fishing.
For an additional cost, indulge and treat yourself to a luxurious spa treatment.
*Note: some fees are not included; Mosi-oa- Tunya National Park requires a US$ 10 per person admission and the Livingstone Museum's entrance fee is US$ 5 per person. Visa fees to Zimbabwe are also not included.
Overnight at Thorntree River Lodge (B, L, D)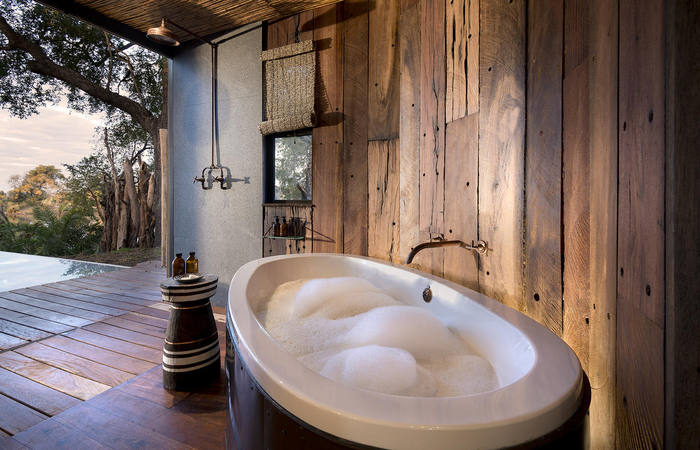 Enjoy your final morning activity and breakfast. At the scheduled time, you'll be transferred out to the Livingstone Airport for your departing flight to your final destination.
(B)
REQUEST A QUOTE
Want more info on this trip? Fill out this form and we will get back to you with a customized quote or help you answer any questions you may have.